SEPECAT JAGUAR


Scroll down for pictures.




SEPECAT JAGUAR.

Produced to meet a joint Anglo-French requirement in 1965 for a dual-role advanced/operational trainer and tactical support aircraft, the Jaguar has been transformed into a potent fighter-bomber. The RAF originally intended to use the aircraft purely as an advanced trainer, but this was later changed to the offensive support role on cost grounds.

The first RAF aircraft took to the air in October 1969, and each air force placed orders for 200 aircraft - the RAF opting for 165 single-seat and 35 two-seat aircraft. Deliveries to No 226 OCU at Lossiemouth began in 1973, and at its peak the Jaguar equipped 8 front-line and 1 training squadron; Nos 14, 17, 20 and 31 Sqn at Bruggen (strike/attack), II(AC) Sqn at Laarbruch (reconnaissance) as well as the three Coltishall based squadrons (6, 41 and 54) and Lossiemouth based 16(Reserve) Sqn where it continues to give sterling service.

A variety of weapons including cluster, freefall, retard and laser guided bombs, as well as rockets can be carried on the four wing and one fuselage stations. Two 30mm cannon are mounted internally. To mark targets for laser-guided weapons, the aircraft carries the thermal imaging and laser designation (TIALD) pod. For self-defence, overwing Sidewinder infra-red missiles are carried and the aircraft is fitted with a comprehensive suite of electronic countermeasures.

Perhaps the Jaguar's most impressive feature is its navigation and attack system. With mission data fed into the computer, all the necessary information for a pinpoint attack is relayed to the head-up display. From the display, the pilot knows exactly where the target is located and precisely when to release his weapons for maximum effect.

The fleet is currently undergoing an upgrade programme, and this will see aircraft fitted with new cockpit displays, helmet-mounted sights, the ability to carry the new Advanced Short Range Air-to-Air Missile (ASRAAM) and other system improvements to further extend the life of the aircraft well into the next century.

Powerplant: Two Turbomeca/Rolls-Royce Adour 104 turbofans of 7,305lbst. Soon to be Adour 106

Span: 28ft 6 in (8.69m)

Length: 55ft 2.5in (16.83m)

Max Speed: 990mph (1,593km/h) at 36,000ft (11,000m).

Crew: GR1B pilot only; T2: pilot and pupil in tandem.

Armament: Two 30mm Aden guns and up to 10,000lb (4,500kg) stores including CVR 7 rockets, sidewiders, cluster bombs, and laser-guided bombs.

Recognition: Long sleek fuselage with a large swept tail fin and rudder. Relatively short-span swept wings are shoulder-mounted on the fuselage. The internal jet engines have intakes either side of the fuselage behind the cockpit, with their top surfaces forming an extension of the wing. The rear jetpipes are located forward and below the tailplane which has marked anhedral. The raised bubble canopy is set above the sharply-pointed nose. The twin mainwheels of the undercarriage retract into the fuselage.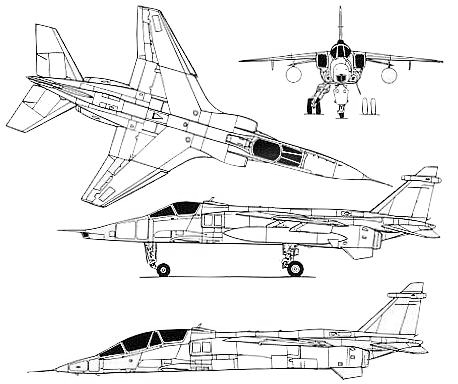 6 Squadron, RAF Coltishall-13 Jaguar GR1A/B plus 1 x T2A


54 Squadron, RAF Coltishall-14 Jaguar GR1A/B plus 2 x T2A


41 Squadron, RAF Coltishall-13 Jaguar GR1A/B plus 1 x T2A


16 (Reserve) Squadron, RAF Lossiemouth-10 Jaguar GR1A/T2A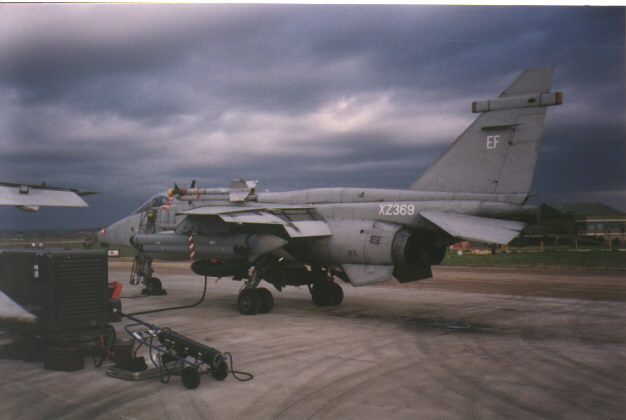 6 sqn RAF, GR1B at Gioa Del Colle, Italy.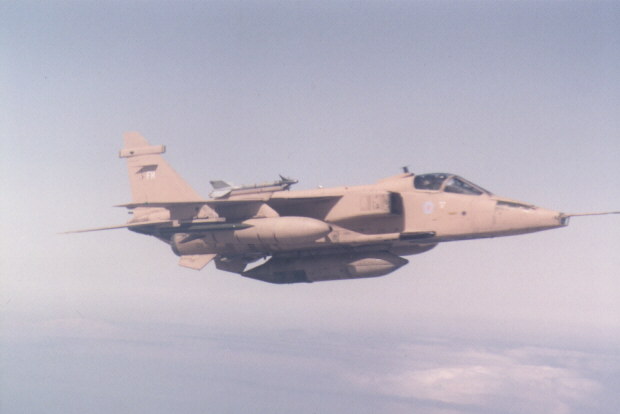 41 sqn RAF, GR1A Turkey/Northern Iraq.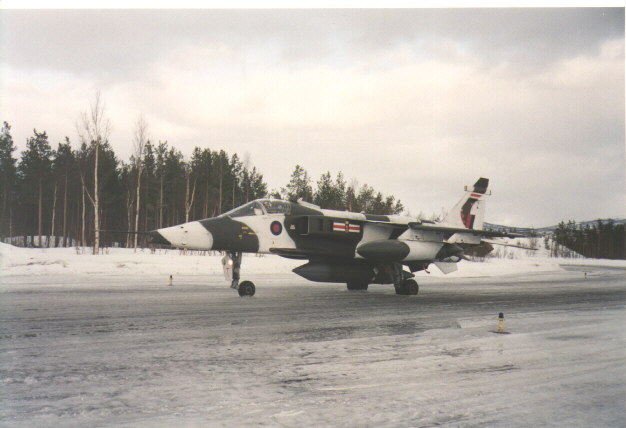 41 sqn RAF, GR1A Bardufoss, Norway.